Man it's been a long time since I've posted. My soul is officially being sucked away by this graveyard shift nonsense and I've therefore not felt like talking about my life. All I've wanted to do is complain and nobody wants to read that, right? But this week I managed to escape the nuthouse work and come to my oasis of sanity my parents house for a much needed vacation. The real bonus is that they have a scanner and Photoshop (oh how I've missed you) so I can show you the dresses I've been working on for the Shabby Apple Dresses design contest while I watched the psychos girls sleep. The scanner was being sort of weird but you get the gist of what I was going for.
The first dress is called the Alison dress because it reminds me of something my oldest sister would have worn in high school. It's very soft and flowy, and not just a little bit hipster. The colors I drew it in are cream and navy but I also love the idea of having it in a cream lining with a soft pink overlay, maybe even with a tiny flower pattern.
The next dress is called the Shannon dress. It was inspired by a vintage forties pattern I found on etsy. The forties is possibly my favorite time period. The styles were so feminine and elegant but there's also a sense of mystique and just straight up coolness, the combination of which you can't find in any other decade. Anyway, I was imagining this in a gray menswear fabric like tweed or maybe a pinstripe, but this could be great in cranberry or navy. I love navy. I can't get away from it. Also, I imagine this dress being worn with a really awesome belt but I didn't draw it on there. Ever the stylist am I.
I'm really into the idea of womanly shapes that look flattering on any body type so all of these dresses emphasize the natural waist while hopefully de-emphasizing any areas that a woman might feel self conscious about. I also really love the trend of full skirts with pockets that aren't noticeable, hence my next design, the Ivy dress. The top is supposed to be navy (see? navy is my go to color right now) and the bottom is supposed to be a lavender that has enough pink that you might consider it mauve. Alternate colors… hmmm… maybe a cream top and silvery blue skirt or a baby pink top with a gray waist band and pine colored skirt. Yeah, that'd be cool.
My next two designs have asymmetrical collars. I'm crazy about asymmetrical stuff, especially when it involves buttons. Of course both of these involve buttons. The first one actually sort of just came to me when I was thinking about how much I love pleated skirts. Then when I saw this skirt from anthropologie I just knew that the fabric had to be gray with yellow polka dots.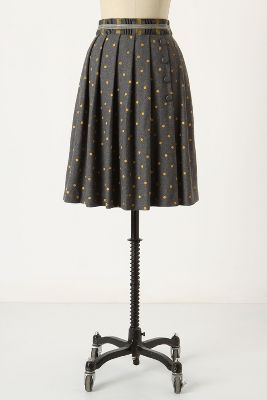 Of course the polka dots could be another color like red or blue or green, but I really think the base color should be gray. I named it Judy after Judy Jetson because the collar and the cuffs of the sleeves would come to points with buttons to keep them in place (you can't see this in the drawing) and this reminds me of something that might have been on the Jetsons.
Okay, final dress. The Madge. Woo. This one is also inspired by a vintage pattern I found on etsy. I imagine the top in a navy and mustard plaid with a mustard colored skirt.
So there you have it. Be sure to check back so I can let you know if they choose one of my designs. Even if they don't I've had a lot of fun and I'm glad I participated. These forays into my fashion fantasies help keep me sane.